Thompsons Family Tea

Best By Jan 2024

FRESHNESS GUARANTEE If Best By date is earlier than listed at purchase, tea will be replaced for free!

34 in stock

Regular price

Sale price

$9.49 USD

Unit price

per

Sale

Sold out



| | |
| --- | --- |
| | Price Per Cup: $0.12 Per Cup |
| | Body: Medium Bodied |
| | Appearance: Amber, Clear |
| | Aroma: Classic, Inviting |
| | Ingredients: Black Tea |
View full details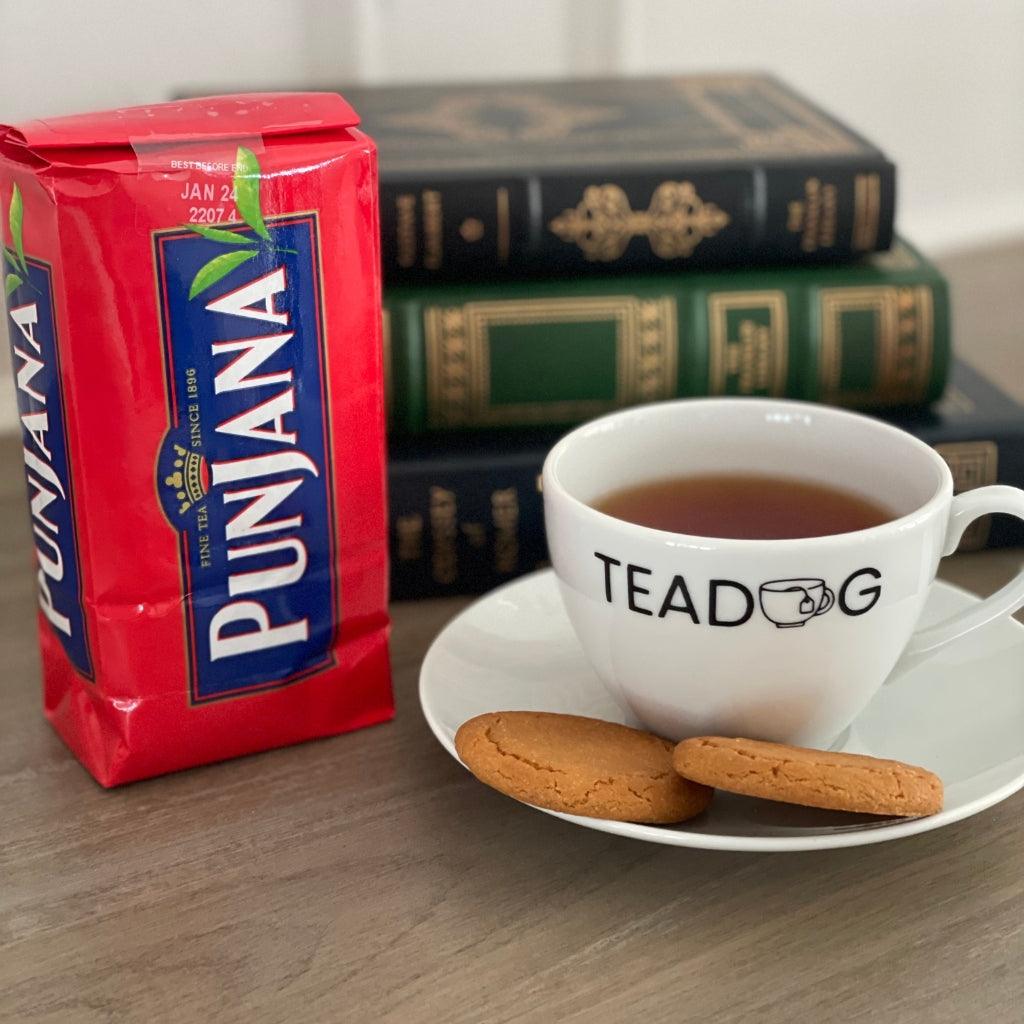 Punjana Everyday Loose Tea in an 8.8 Ounces Pack
For those that prefer loose tea, Punjana Everyday Loose is finally available. This tea is a Great Taste Award winner in 2014.

Punjana has been making tea in Belfast since 1888.
Ingredients:
Tea Leaves for Kenya (Africa) and Assam (India).
Brand History:
Punjana Limited
Belfast, Northern Ireland

A century ago, Punjana Limited, the tea importer and blender, was beginning its life near the docklands in Belfast. Originally founded by McArthur and Willis, the Thompson family made their mark in 1896 when Robert Samuel Thompson became a partner.

Robert Samuel Thompson was joined in the post war years by James and Tony Thompson and today Ross and David Thompson carry on the traditional skill of tea tasting and blending in much the same way as has been done since the company was founded.

Robert Samuel Thompson originally entered the tea trade in 1887, and studied the art of tea tasting. He soon was made a partner in McArthur and Willis from 1896. He became known for his uncompromising devotion to quality and led the company for 51 years.

As the 20th Century progressed, the connection with the Thompson family was strengthened and in post-war years, James and Tony Thompson became partners in the company. They were responsible for the birth of the Punjana brand and developed it until they retired in the late 1980´s.

The joint managing directors of Punjana Limited, today carry on the traditional job of tea tasting and selecting the company´s teas, in much the same way as has been done since the company was founded in 1896.

PUNJANA LOOSE TEA
EXCELLENT TEA!!!!!! VERY GOOD TEA!!!
I HAVE WANTING TO TRY PUNJANA FOR YEARS, AND FINALLY DID. IT HAS A WONDERFUL FLAVOR.
Good choice
I was looking for a substantial tea for my daily pot. It's so hard to find reasonable loose leaf tea that is "just" tea, not flavored with fruit or spice, but not flavorless either. It doesn't grow bitter sitting on the warmer, either.
Nice everyday tea
Nice balance of maltiness and tannins. Takes sugar and milk nicely. Good value for the price.
Fabulous tea. My favorite. Strong brew, never bitter, great with milk. Like C. H., I became hooked even though I had to order it from Ireland. Ever since Tea Dog began to deliver it--quickly!--I'm never without it.
GREAT BREAKFAST TEA
Brisk, strong tea but easy to drink. Just perfect on winter mornings.