Twinings Tea

Best By Apr 2025

FRESHNESS GUARANTEE If Best By date is earlier than listed at purchase, tea will be replaced for free!

9 in stock

Regular price

Sale price

$13.99 USD

Unit price

per

Sale

Sold out



| | |
| --- | --- |
| | Price Per Cup: $0.17 Per Cup |
| | Body: Medium Bodied |
| | Appearance: Golden, Clear |
| | Aroma: Balanced, Smooth |
| | Ingredients: Black Tea |
View full details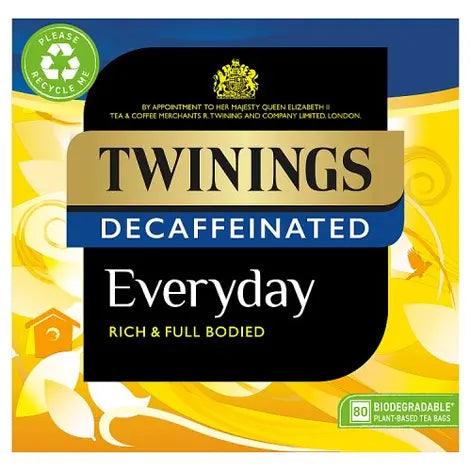 Twinings Everyday Decaffeinated Tea in a box of 80 Tea Bags
The tea brews a golden color. For best results, steep for 3 to 5 minutes and then add a sweetener and dash of milk.
Ingredients:
Tea leaves from Africa, India and Sri Lanka.

Method Used to Decaffeinate the Tea:
Ethyl Acetate
Brand History:
Twinings Tea
London, England

For generations of tea drinkers around the world, Twinings and tea are inseparable. For 300 years, Twinings has been at the forefront of the tea trade - influencing tea-drinking habits and helping to shape an industry and a culture with its tradition of excellence and innovation.

The Twining family of Gloucestershire, England, weavers and processors of wool for generations, were driven to London by recession in 1684. With them went 9-year-old Thomas Twining.

In 1701 at the age of 26, Thomas turned his back on his father's trade, and went to work for a wealthy East India Company merchant. At the time, the East India Company was importing many exotic new products from around the world, including tea. In 1706, Thomas Twining bought Tom's Coffee House off Strand, London. Concentrating on tea was no gimmick. Thomas knew it was a drink with great potential.

Despite efforts to repress tea-drinking through punitive taxes, tea became increasingly fashionable during the early part of the 18th century. Soon, Thomas Twining was selling more dry tea than wet. He even sold it to competing coffee houses. Only the wealthy could afford to drink tea.

Thomas Twining was fast building a reputation for selling only the finest teas - teas that well-heeled London ladies were eager to serve in their drawing rooms. The son of Thomas Twining, Daniel, was the first Twining to export tea. His ledgers show that in 1749, Twinings tea was being sold to America. The Governor of Boston was a customer, and his tea seems to have made it to America without mishap.

During the infamous Boston Tea Party in 1773, American patriots dumped English tea in Boston harbor to protest a tax. However, as a distinguished writer noted: "It was not Twinings tea the Boston rebels tossed into the sea."

In 1762, after Daniel's premature death, his second wife, Mary Little, took charge of the Twining family business. In 1771, although he was just 22 years of age, Richard Twining took over from his mother. His younger brother, John, joined him the following year.

In 1837, Queen Victoria granted Twinings their first Royal Warrant for tea as "Purveyor in Ordinary to Her Majesty". When World War II broke out, neither bombs nor rationing could halt the flow of morale-boosting cups of Twinings tea.

Now in its third century, Twinings operates its international business from the UK. Twinings still sells tea in London at 216 The Strand, probably the world's first dry tea and coffee shop. Twinings is honored to hold Royal Warrants of Appointment to HM The Queen and HRH The Prince of Wales.

After quenching thirsts for more than three centuries, no one knows better than Twinings how to deliver the perfect tea experience. Customers in more than 100 countries enjoy Twinings products. And not just the popular favorites - products such as fruit and herbal infusions, aromatic teas, and iced teas are delighting the taste buds of a new generation of customers.


Excellent decaf!
Twinings Everyday tea is one of the favorite "everyday" teas in our home. Given that decaffeinated teas are never as flavorful, this decaf version is excellent for what it is. Not as robust as the non-decaf, but plenty of flavor, and very nicely balanced. Whenever our "afternoon tea" gets pushed too late into the evening, and we feel that we don't want the caffeine, we bring out the Decaf Everyday. Not quite as good as the original, but nearly so.
Absolutely tasteless
Decaf teas tend to be milder with less flavor than conventional teas. This decaf is the worst one I've ever had because it has no flavor at all. It's actually tasteless.