Glengettie Tea of Wales

Best By Jan 2025

FRESHNESS GUARANTEE If Best By date is earlier than listed at purchase, tea will be replaced for free!

23 in stock

Regular price

Sale price

$9.99 USD

Unit price

per

Sale

Sold out



| | |
| --- | --- |
| | Price Per Cup: $0.12 Per Cup |
| | Body: Full Bodied |
| | Appearance: Rich, Dark |
| | Aroma: Malty, Inviting |
| | Ingredients: Black Tea |
View full details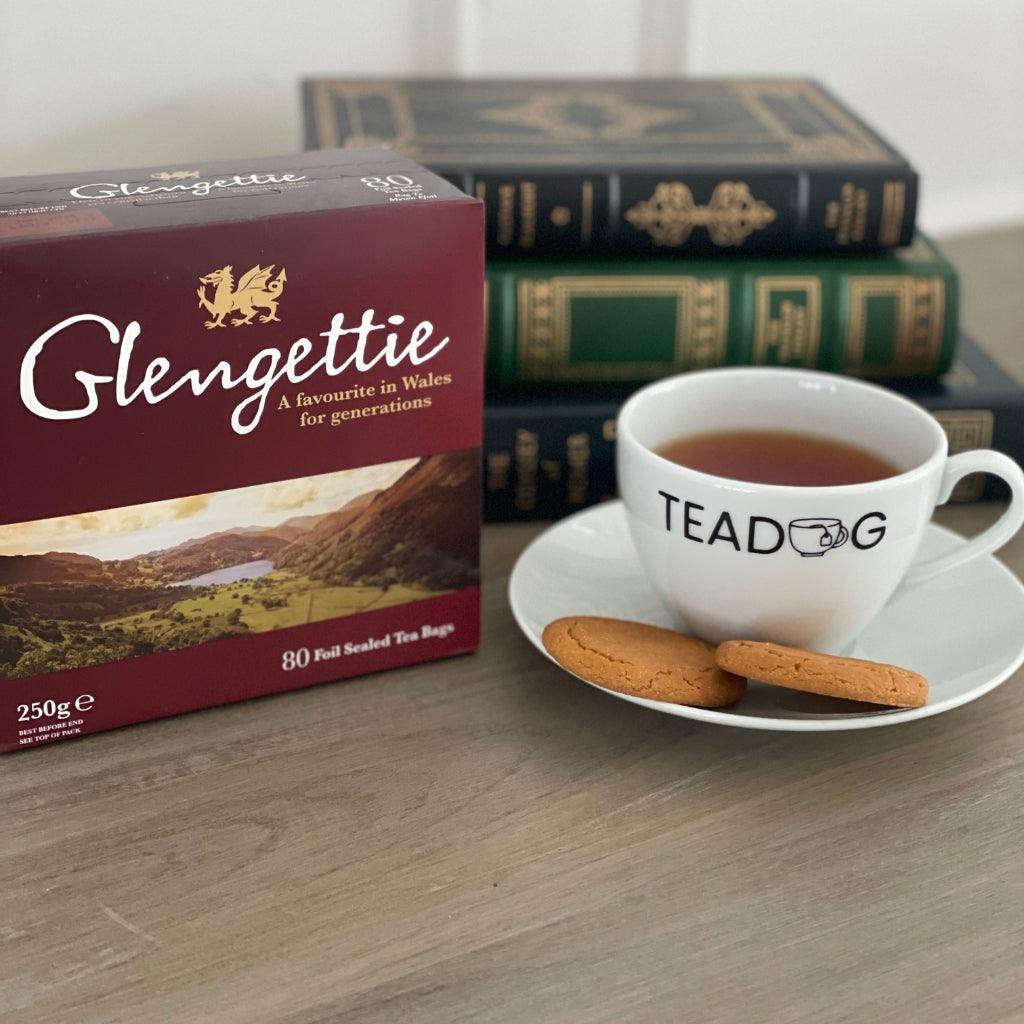 Glengettie Tea in a Box of 80 Tea Bags
Glengettie has been a favorite in Wales since 1952. Originally, it was sold as a strong cup of tea specifically for miners in Wales.

Glengettie Tea has been specially designed to complement the soft water of Wales. Welsh Teas closely resemble Irish teas, which are extremely popular with tea drinkers. Welsh Teas are blended for the soft waters of Wales. Welsh Teas are a blend of tea from Africa and India.

A good cup of tea always has been a traditional sign of hospitality in Wales. Glengettie is one of the two leading brands of tea in Wales. Boxes of Glengettie come with an English-language label on one side and Welsh-language on another side.

With the slogan "A favorite in Wales for generations" Glengettie is known for its strength of flavor. Today, Glengettie is produced by the same company that makes Typhoo tea, a favorite English tea.

Distinctive flavor and high-quality has made Glengettie a traditional favorite in Wales.

Ingredients:
Tea leaves.
Brand History:
Glengettie tea started in 1952. Today, Glengettie is produced by the same company that makes Typhoo tea.

Hiraeth
Hiraeth is a longing or yearning to be back in Wales. Drinking Glengettie is a way to lessen that longing. It is a fast brewing, deeply satisfying cup of tea. When you drink it you can hear the miners singing "Cum Rhondda".
Best tea in Wales!
I have been a fan of Glengettie for decades while living in Wales. So glad I found TeaDog to import.
Excellent cup of tea, we love it!
Good cuppa
Excellent service it doesn't take long to order, or delivery. Used to have family mail teabags, this is so easy and still get the taste of home.
Glengettie
Been using your Glengettie for years. Love it!