Birchall Tea

Best By Sep 2025

FRESHNESS GUARANTEE If Best By date is earlier than listed at purchase, tea will be replaced for free!

In stock

Regular price

Sale price

$13.99 USD

Unit price

per

Sale

Sold out



| | |
| --- | --- |
| | Price Per Cup: $0.17 Per Cup |
| | Body: Full Bodied |
| | Appearance: Rich, Deep |
| | Aroma: Robust, Invigorating |
| | Ingredients: Black Tea |
View full details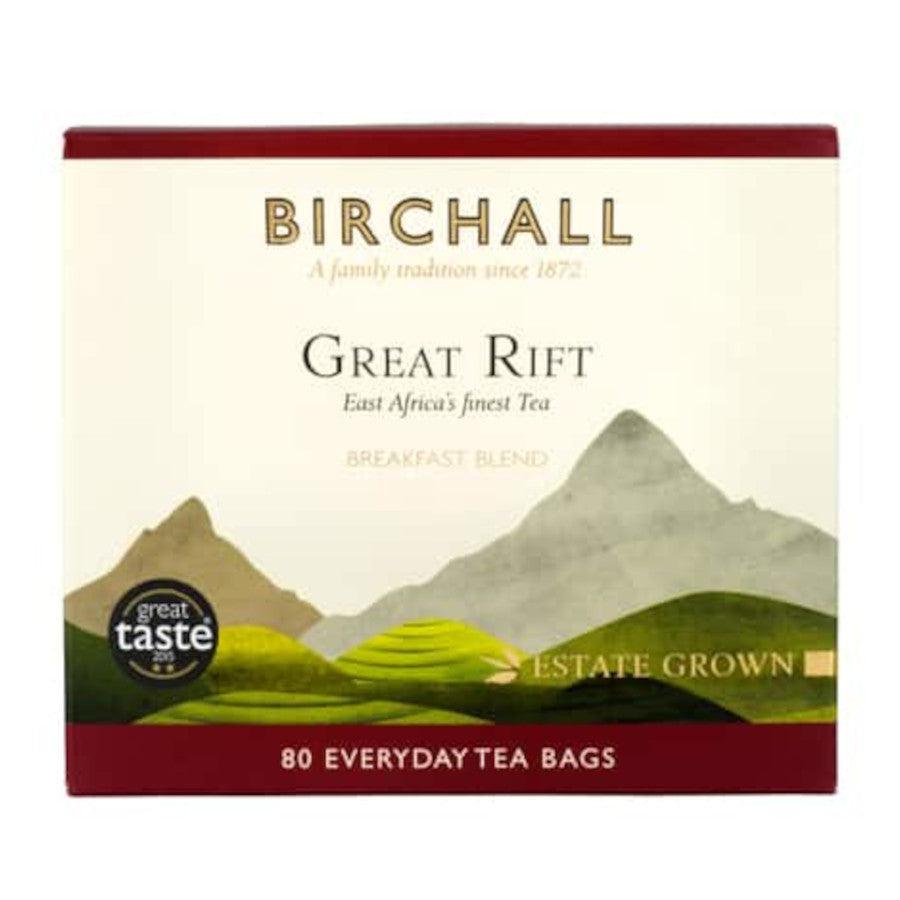 Birchall Great Rift Breakfast Blend in a box of 80 Tea Bags
Think of Great Rift Breakfast Blend as Birchall's unique version of English Breakfast Tea. Actually, it may be the best the English Breakfast Tea you ever tried. Birchall Great Rift Breakfast Blend is a one-of-a-kind unique twist on English Breakfast Tea. The tea leaves are from East Africa's Great Rift Valley. The tea leaves are from Rainforest Alliance certified farms.

It tastes great and you will not find any plastic in your tea bag. Birchall Great Rift Breakfast Blend tea bags are made with a plant-based material. Plus, the tea bags are bio-degradable. The tea bags are industrially compostable but not in your back yard compost pile.
This is a strong English Tea with every mouthful containing a burst of flavor.
East African Teas
What are Great Rift Teas? Tea leaves used by Birchall are grown in Kenya and Rwanda in East Africa. More specifically, the tea leaves come from the Great Rift Valley. This region is known for producing some of the finest tea leaves in the world.
In the Great Rift Valley, tea leaves are grown in high altitude with a lot of rain and in volcanic soil. These elements combine to produce tea leaves with a very specific flavor. Kenyan Teas are popular with a lot of British and Irish tea brands.
Why does high altitude produce great tea? Since the Great Rift Valley is so high above sea level, the tea leaves grow at a slower rate. Combining this with the fact the temperature is low, means the tea leaves develop greater depth of flavor before being picked.
How to Make Perfect Cup of Birchall Tea
Birchall offers a few steps to make the perfect cup of Great Rift Tea. But, before you start, make sure to use fresh water every time you make tea. Then, after you are done steeping, don't squeeze the tea bag as it puts some of the bitter liquid absorbed into the tea leaves back into your cup.
To make the perfect cup, Birchall suggests following these steps. First, bring the water to a boil. Then, steep the tea for 2 minutes. Store your Birchall Tea in a cool, dry and away from strong odors.
Socially Responsible Ethical Credentials
It also makes the tea taste a bit better when you know your brand of tea acts responsibly. Birchall Teas are grown in a way that respects the people growing and picking the tea as well as the environment where the tea is grown and produced.
Birchall Teas are made from tea leaves from certified Rainforest Alliance farms. On each box, you will find the Rainforest Alliance's famous green frog seal, which means the tea was grown in a way that respects the environment and the people.
In Rwanda, the farm where Birchall obtained tea leaves became the first in the country, in any industry, to be Rainforest Alliance Certified.
Birchall also has been recognized for the treatment of workers and good relationship with the community, including housing for workers, assistance with community development projects such as school building, water and conservation.
Environmental Responsibility
Birchall Tea also has an extensive commitment to the environment. Birchall became the world's first tea company to become part of the UN's Climate Neutral Now Initiative. Plus, Birchall also became the world's first tea company to achieve Carbon Neutral International Standard. Now, every Birchall Tea produced is now carbon neutral.
Birchall took the additional step of opening the UK's first solar powered tea making facility, in the south of England. It has almost 500 solar panels on the roof of the building, which generates all the electricity the facility needs.
Excellent tea, new to us
We've enjoyed this brand, which we recently bought for the first time. Rich flavor and color, and stands up well to my sometimes heavy hand with milk. First purchase, but not the last.
very tasty! good breakfast tea flavor, no off tones or bitterness
I really the Great Rift as a breakfast tea with milk. As one reviewer pointed out, you can leave the tea bags in and it doesn't get nasty-tasting; completely agree. I don't get any of the lemon flavor another reviewer noted, just a nice balance of warm/mellow and darker tea flavors with no distracting perfumyness. The tea seems very fresh and the bags are as strong as any other I have (that is, two bags per pot works well as it does with other teas I like). For reference, for breakfast teas I also like Typhoo, Barry's Black, Barry's Gold, PG Tips, and for an occasional change Irish Breakfast (Barry's). I also tried the Bewley's Dublin Morning tea in this order and it's a little more smoky-dark than I like for my regular breakfast tea.
Ok but not as the pyramid bag ones
I first had Birchall English breakfast (in pyramid bag) in London and loved the bold clear taste of it and fell in love with it. I have been order them from their UK website. When I saw the English breakfast is available in US, I decided to give it a try. This is the regular tea bag version. It is alright but can't compare with the pyramid version I loved. The quality and taste are clearly not the same. I hope teadog can make the pyramid bag version available. Although it's more pricey, definitely worth it.
Nice
I enjoy the flavor of this tea. Pairs well with milk.