Now in the USA: Birchall Tea
A prominent brand of tea from England, unknown to many tea drinkers outside the UK, is finally in the US. Birchall Tea has arrived.
At teadog.com, we will be offering two varieties of the best Birchall Teas. You can choose between Birchall Great Rift Breakfast Blend or Birchall Great Rift Decaf Tea, both of which are available in an 80 tea bag box.
Both varieties are black tea made with 100% African tea leaves. Birchall uses Rainforest Alliance Certified tea leaves to make these teas.
Birchall Great Rift Breakfast Blend in a box of 80 Tea Bags
Think of Great Rift Breakfast Blend as Birchall's unique version of English Breakfast Tea. Actually, it may be the best the English Breakfast Tea you ever tried. Birchall Great Rift Breakfast Blend is a one-of-a-kind unique twist on English Breakfast Tea. The tea leaves are from East Africa's Great Rift Valley. The tea leaves are from Rainforest Alliance certified farms.
Birchall Breakfast Blend has won an award from the Guild of Fine Foods for 10 years in a row, which is more than any other breakfast tea. This is a strong English Tea with every mouthful bursting with flavor.
Birchall Great Rift Decaf Tea in a box of 80 Tea Bags
Often, when you drink a cup of decaf it very tastes weak and not even like real tea, but with Birchall Decaf this is not the case. Birchall Everyday Decaf has the same great flavor of regular tea but without the caffeine. The tea leaves are from East Africa's Great Rift Valley. The tea leaves are from Rainforest Alliance certified farms.
Like most British Tea brands, Birchall uses methylene chloride to decaffeinate their tea. You can read our in depth article about the different decaffeination methods used by tea makers.
This is a strong decaffeinated tea.
---
Birchall takes environmental committements very seriously.
Birchall Teas taste great and you will not find any plastic in your cup. Birchall Great Rift Breakfast Blend tea bags are made with a plant-based material. The tea bags do not contain any plastic. Plus, the tea bags are bio-degradable. The tea bags are industrially compostable but not in your back yard compost pile.
---
Tea leaves used by Birchall are grown in Kenya and Rwanda in East Africa. More specifically, the tea leaves come from the Great Rift Valley. This region is known for producing some of the finest tea leaves in the world.
In the Great Rift Valley, tea leaves are grown in high altitude with a lot of rain and in volcanic soil. These elements combine to produce tea leaves with a very specific flavor. Kenyan Teas are popular with a lot of British and Irish tea brands.
Why does high altitude produce great tea? Since the Great Rift Valley is so high above sea level, the tea leaves grow at a slower rate. Combining this with the fact the temperature is low, means the tea leaves develop greater depth of flavor before being picked.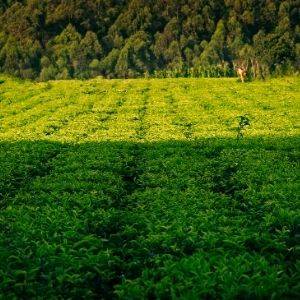 ---
Award Winning, Social and Environmental
Award Winning Tea
Ultimately, it is up to each person to decide if they like a particular brand of tea. But, it is always good to know that your cup of tea is an award-winner and Birchall Tea has garnered many big honors. Since 2011, Birchall Teas have won 69 awards from the Guild of Fine Foods, also known as the Food Oscars.
Birchall Breakfast Tea has won a Great Taste award for the last 10 consecutive years. This is more recognition than any breakfast tea from any brand in any location. Birchall Decaf has won 2 Gold Stars from the Food Oscars.
Socially Responsible Ethical Credentials
It also makes the tea taste a bit better when you know your brand of tea acts responsibly. Birchall Teas are grown in a way that respects the people growing and picking the tea as well as the environment where the tea is grown and produced.
Birchall Teas are made from tea leaves from certified Rainforest Alliance farms. On each box, you will find the Rainforest Alliance's famous green frog seal, which means the tea was grown
In Rwanda, the farm where Birchall obtained tea leaves became the first in the country, in any industry, to be Rainforest Alliance Certified.
Birchall also has been recognized for the treatment of workers and good relationship with the community, including housing for workers, assistance with community development projects such as school building, water and conservation.
Environmental Responsibility
Birchall Tea also has an extensive commitment to the environment. Birchall became the world's first tea company to become part of the UN's Climate Neutral Now Initiative. Plus, Birchall also became the world's first tea company to achieve Carbon Neutral International Standard. Now, every Birchall Tea produced is now carbon neutral.
Birchall took the additional step of opening the UK's first solar powered tea making facility, in the south of England. It has almost 500 solar panels on the roof of the building, which generates all the electricity the facility needs.
---
How to Make Prefect Cup of Birchall Tea
Birchall offers a few steps to make the perfect cup of Great Rift Tea. But, before you start, make sure to use fresh water every time you make tea. Then, after you are done steeping, don't squeeze the tea bag as it puts some of the bitter liquid absorbed into the tea leaves back into your cup.
To make the perfect cup, Birchall suggests following these steps. First, bring the water to a boil. Then, steep the tea for 2 minutes. Store your Birchall Tea in a cool, dry and away from strong odors.
How is Your Tea Decaffeinated
Yorkshire Gold vs Red: What is the difference